Irish Injured Jockeys Amateur Photographic Competition
The Irish Injured Jockeys Amateur Photographic Competition sponsored by The Irish Field and SoftCo, is now open for our 2018 Calendar edition. The theme this year is The Racing Year and the subject matter of the entries can cover any aspect of the life of the Thoroughbred, from Birth to being Raised and Training to Racing Retirement. Entries may also feature subjects such as the people and places involved in racing and breeding, seasonal shots and much more. Entries for the competition must be received by the closing date of Friday, August 4th and be made by way of hard copies. The Minimum size for entries is 10 inches x 8 inches, and the maximum size will be 30 inches x 24 inches. Photographs may be in colour or black & white.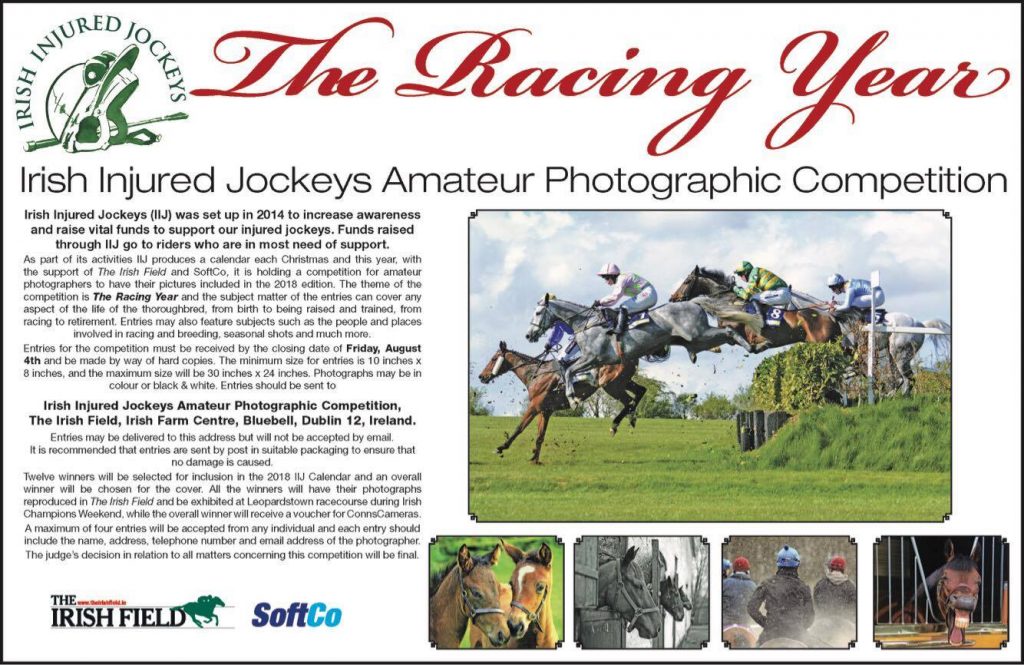 How to Enter 
Entries should be sent to Irish Injured Jockeys Amateur Photographic Competition, The Irish Field, Irish Farm Centre, Bluebell Dublin 12, Ireland. Entries may be delivered to this address but will but be accepted by email. It is recommended that entries are sent by post in suitable packaging to ensure that no damage is caused.
Twelve winners will be selected for inclusion in the 2018 IIJ calendar and an overall winner will be chosen for the cover. All winners will have their photographs reproduced in The Irish Field and be exhibited at leopardstown racecourse during Irish Champions weekend, while the over all winner will receive a voucher for ConnsCameras.
A Maximum of four entries will be accepted from any individual and each entry should include the name, address, telephone number and email address of the photographer. The judge's decision in relation to all matters concerning this competition will be final.
Last Years winners