Graham Atkinson is crowned 2018 Corinthian Challenge Champion
A total of 14 riders went to post in the final leg of The Corinthian Challenge Charity Race Series for Irish Injured Jockeys  at Leopardstown Racecourse last weekend. The series was won by Graham Atkinson riding Uncle Henry for trainer Joseph O'Brien.
Graham is a landscaper from Upton, Co. Cork who has grown up in racing, his brother Don Atkinson recently retired from point-to-point riding following four decades in the saddle and his cousin Wayne Lordan is one of Ireland's top flat jockeys also. Graham celebrated with his wife Theresa, children Lucy and Charlie, Brother Don and extended family and friends who made the trip from Cork to support him.
Speaking of his experience Graham said, "I am thrilled to have won the 2018 Corinthian Challenge it's hard to explain just how special it is, I'm over the moon. I guess after winning the first race of the series the pressure was off and I decided to relax and enjoy the remainder of the races, I never expected to win it outright! It's been a privilege to ride amongst some of the best people I've ever met these last few months, everyone has put in a lot of time and effort getting race fit and raising awareness and funds for Irish Injured Jockeys, it's been a personal journey for us all one way or another. I would like to sincerely thank Joseph O'Brien and his wonderful owners and staff who have provided me with a horse for each race, I am so grateful to you all and to the team at Irish Injured Jockeys for their support along the way too. I would like to thank my wife Theresa, children Lucy and Charlie and all my family for their patience and support over the last few months, it has been a major commitment for us all. Finally, for all of those kind people who have supported my fundraising efforts along the way, thank you so much and I hope you got a kick out of backing a winner and doing your bit for IIJ too. If anyone hasn't got around to donating yet it's not too late, please visit www.corinthianchallenge.com where you can still donate to my fundraising page online."
Remarkably, no less than five participants went into the race on Saturday at Leopardstown in contention of that overall title, these were; Marina Hamilton 14 points, Graham Atkinson 13 points, Harry Shearman 10 points, Orla McKenna and Rachael O'Callaghan 5 points each which made it a very exciting final race of the series for all involved and their supporters. Each race of the series has a winner and placings with points allocated to each rider accordingly, the points accumulate throughout the series will decide on the overall winner of the 2018 Corinthian Challenge for Irish Injured Jockeys.
Orla McKenna sister of Gold Cup winning jockey Mark Dwyer who works at Tattersalls Ireland won the race itself at Leopardstown aboard Song of Namibia for trainer Ger Lyons however, Graham who finished a close second to her on the day had won and been placed previously which ensured he had accumulated enough point to be deemed the 2018 Champion of The Corinthian Challenge Charity Race Series.
The Charity Race Series is an extremely successful fundraising initiative and is now firmly established as an annual event for the racing charity as it draws to a close in this its third year. Thus far the series has raised over €300,000 for Irish Injured Jockeys, with this year's participants raising a massive €100,000 already with efforts ongoing.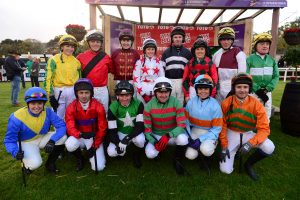 "Group shot of the riders before the third and final race of the 2018 Corinthian Challenge Charity Race Series on behalf of Irish Injured Jockeys" Pat Healy 
For further media information contact:
Carey Ann Lordan, Red PR
Tel: 052 6184343                                Mob: 087 9270730
E: clordan@redpr.ie                            Web: www.redpr.ie
Michael Higgins, Irish Injured Jockeys
Tel: 045 533011                                  Mob: 086 2428014
E: info@irishinjuredjockeys.com        Web: www.irishinjuredjockeys.com
Official photographer:  Pat Healy, Healy Racing Photography